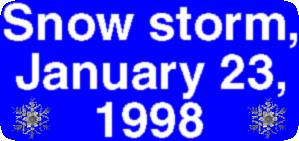 Storm description, surface observations, snowfall totals, and images courtesy of the
National Climatic Data Center
, the
National Centers of Environmental Prediction
, the
Climate Prediction Center
, the
Hydrometeorological Prediction Center
, the
Mount Holly National Weather Service Office
, the
Upton National Weather Service Office
,
Rutgers University
,
Plymouth State University
, the
University of Illinois
, the
American Meteorological Society
,
Weather Graphics Technologies
,
AccuWeather
, and the
Weather Channel
.




Table of Contents

Storm Summary

Regional Surface Observations
National Weather Service Forecasts
Surface Maps
Satellite Imagery
Sea Level Pressure and 1000 to 500 Millibar Thickness Maps
850 Millibar Maps
700 Millibar Maps
500 Millibar Maps
300 Millibar Maps
200 Millibar Maps
National Radar Imagery
Local Radar Imagery
Fort Dix Doppler Radar Imagery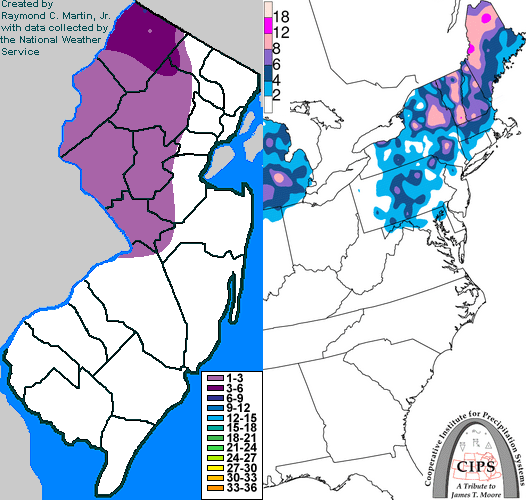 Contoured Snowfall Totals from January 23, 1998


STORM DESCRIPTION
A low pressure system brought a mix of snow, sleet, and freezing rain to west central and northwest New Jersey, and a more substantial storm to Sussex County.

Synoptic Discussion
A high pressure system built into northern New England on the 22nd and 23rd. A low pressure system moved into the Ohio Valley. As the low moved into southern Canada and weakened, a series of weak secondary low pressure systems developed along the primary low's cold front over the East Coast during the evening of the 23rd and the 24th before the system moved off the coast.

Local Discusion
The high pressure system brought enough cold air into the region for the precipitation associated with the primary low to begin as snow over southwestern, central, and northern New Jersey. Due to the low's position to the west of New Jersey, winds were from the east near the surface and this brought in warmer air from the Atlantic Ocean. The snow quickly changed to rain with little accumulation in southwestern, east central and northeastern New Jersey. In west central New Jersey, the snow lasted several hours, then changed briefly to freezing rain and sleet before becoming plain rain by the mid-morning hours. Snow persisted longer further north. The change to sleet and freezing rain did not occur until daylight hours, and precipitation did not become plain rain until noon. In Sussex County, snow was falling in the northwest corner of the county well into the afternoon of the 23rd, and the last vestige of freezing rain was not scoured out of the valleys until 8 pm EST that evening. Most areas of the county endured a prolonged period of freezing rain during the day. Rain persisted throughout New Jersey through the evening of the 23rd and into the early morning hours of the 24th. Snowfall accumulations generally were 1 to 2 inches in west central New Jersey, while they reached between 2 and 6 inches in the northwestern part of the state. Ice accrual was generally light.




New Jersey Snowfall Totals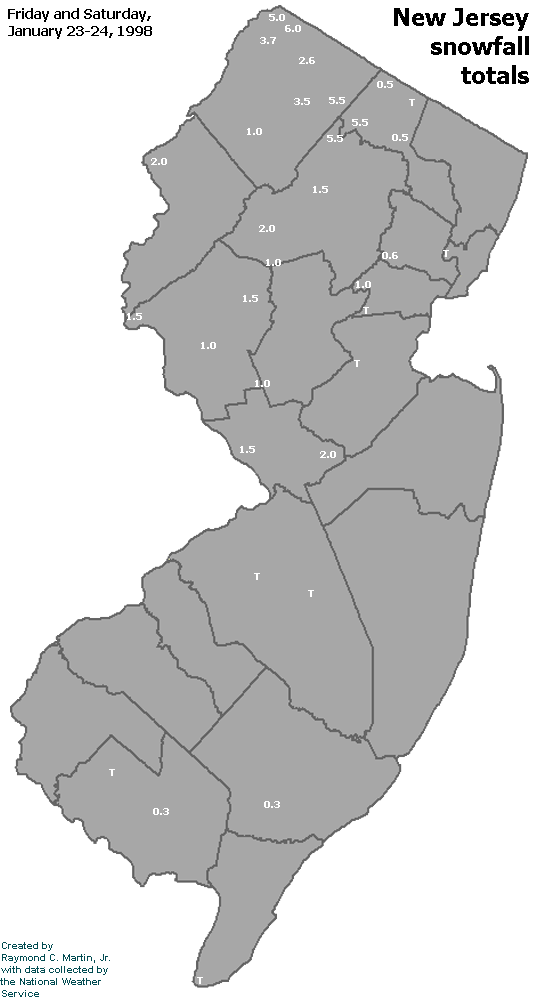 Individual Snowfall Totals from January 23, 1998




Table of Contents

Storm Summary

Regional Surface Observations
National Weather Service Forecasts
Surface Maps
Satellite Imagery
Sea Level Pressure and 1000 to 500 Millibar Thickness Maps
850 Millibar Maps
700 Millibar Maps
500 Millibar Maps
300 Millibar Maps
200 Millibar Maps
National Radar Imagery
Local Radar Imagery
Fort Dix Doppler Radar Imagery
Snow storm, December 27, 1997

Snow storm, January 23, 1998


Back to Ray's Winter Storm Archive
Copyright © 2012 by
Raymond C Martin Jr
. All rights reserved