Storm description, surface observations, snowfall totals, and images courtesy of the
National Climatic Data Center
, the
National Centers of Environmental Prediction
, the
Climate Prediction Center
, the
Hydrometeorological Prediction Center
, the
Mount Holly National Weather Service Office
, the
Upton National Weather Service Office
,
Rutgers University
,
Plymouth State University
, the
University of Illinois
, the
American Meteorological Society
,
Weather Graphics Technologies
,
AccuWeather
, and the
Weather Channel
.




Table of Contents

Storm Summary

Regional Surface Observations
National Weather Service Forecasts
Surface Maps
Satellite Imagery
National Surface Weather Maps - Pressure and Fronts Only
Sea Level Pressure and 1000 to 500 Millibar Thickness Maps
850 Millibar Maps
700 Millibar Maps
500 Millibar Maps
300 Millibar Maps
200 Millibar Maps
National Radar Imagery
Fort Dix Doppler Radar Imagery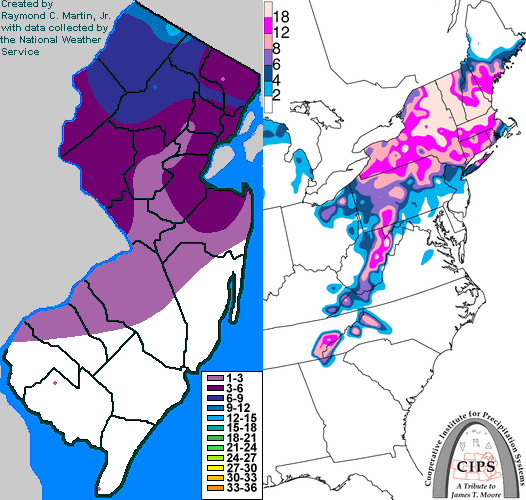 Contoured Snowfall Totals from March 4-6, 2001


STORM DESCRIPTION
A complex, slow moving, and slowly intensifying nor'easter brought a protracted wintry mix of precipitation to New Jersey from Sunday the 4th through Tuesday the 6th, accompanied by strong and gusty winds. Its complex nature made it particularly difficult to forecast, resulting in one of the biggest forecast "busts" in recent history.

Synoptic Discussion
The original low pressure system developed over the western Gulf of Mexico on Saturday, March 3rd. On Sunday, March 4th, this system moved northeast across the Tennessee Valley, while a high pressure built in over northern New England. At the same time, a new low pressure began to develop off the Mid-Atlantic coast. During the day on Monday, March 5th, the new low pressure system off the Mid-Atlantic coast began to intensify rapidly as the original low pressure weakened over the Appalachians. The new low slowly drifted north off the eastern end of Long Island late Monday night, March 5th and early Tuesday, March 6th. It then became stationary during most of the day Tuesday, March 6th as the upper level low moved over the surface low pressure center. The storm finally began moving eastward and away from the region early Wednesday morning, March 7th.

Local Discussion
Precipitation spread across the state during the day Sunday, March 4th. It began as rain across the southern portion of the state, but started as snow across central and northern sections. During the afternoon cold air worked slowly southward, allowing the rain in southern sections to start changing to sleet and snow, mainly in areas adjacent to the Delaware River and extending eastward across Burlington and Ocean counties. During Sunday night, warm air began working northward at mid-levels, allowing areas formerly recieving snow to change to sleet and then freezing rain. This precipitation change spread northward across the entire state by the early morning of Monday, March 5th. However, because cold air was still present at the surface, most areas in central and northern New Jersey continued to see an icy mixture, while areas from Burlington and Ocean counties southward saw precipitation change to all rain. During the day Monday, as the storm moved east of the state, cold air began to move back southward across the state, allowing the rain in southern sections to change to sleet and freezing rain towards noon Monday, with areas further north seeing the sleet and freezing rain change to snow by early afternoon. The change to snow encompassed the entire state by late afternoon, but by this time most precipitation had moved away from New Jersey. This lull lasted until the early morning hours of Tuesday, March 6th, when bands of snow began rotating southwestward around the now stationary low pressure east of the state. Much of northern New Jersey saw periods of heavy snow Tuesday, while areas further south saw lighter snows which had more difficulty accumulating due to the strong March sun-angle and relatively warm temperatures during the day. The snows finally tapered off to flurries and ended Tuesday evening. Snowfall accumulations were much lower than expected due to the storm strengthening further northeast than originally expected, as well as more mixing with sleet, freezing rain and rain than was originally expected. However, parts of the state still saw significant snow, with parts of Sussex County recieving up to 15 inches of accumulation. Accumulations ranged from 6 to 15 inches in Sussex County, 4 to 10 inches in Warren, Morris, and Passaic counties, 3 to 6 inches in Hunterdon, Essex, Bergen, and Hudson counties, 2 to 5 inches in Mercer, Somerset, Middlesex, and Union counties, and 1 to 3 inches in Salem, Gloucester, Camden, Burlington, Ocean, and Monmouth counties. Less than 1 inch accumulated across Atlantic, Cumberland, and Cape May counties.




New Jersey Snowfall Totals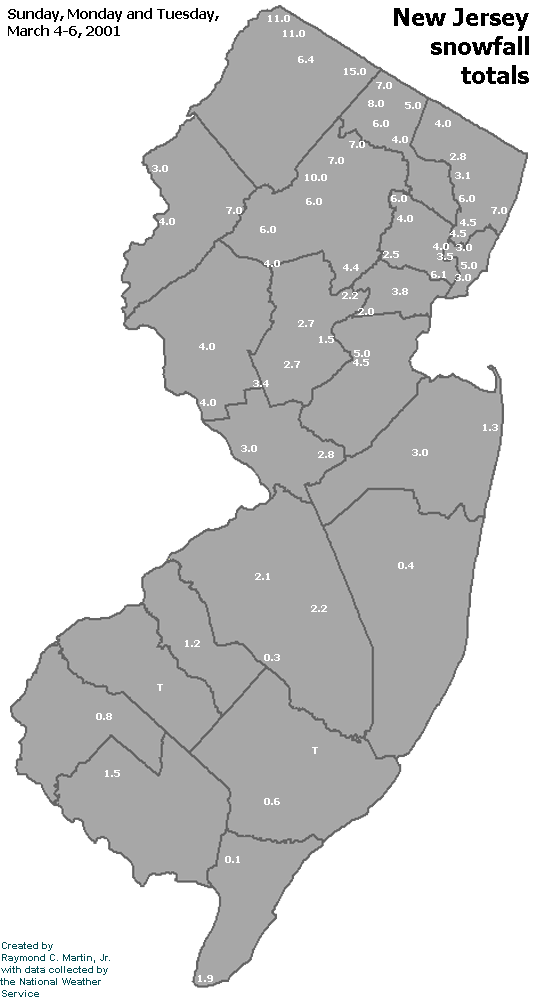 Individual Snowfall Totals from March 4-6, 2001


Regional Snowfall Totals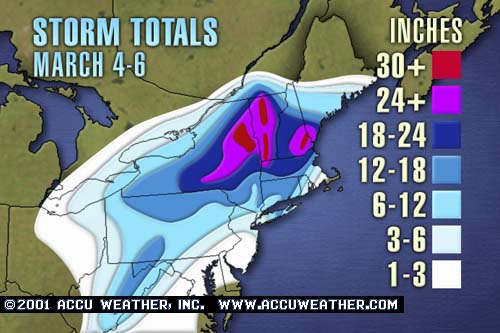 Snowfall Totals from 1700Z 08 March 2001 (12PM EST 07 March 2001)




Table of Contents

Storm Summary

Regional Surface Observations
National Weather Service Forecasts
Surface Maps
Satellite Imagery
National Surface Weather Maps - Pressure and Fronts Only
Sea Level Pressure and 1000 to 500 Millibar Thickness Maps
850 Millibar Maps
700 Millibar Maps
500 Millibar Maps
300 Millibar Maps
200 Millibar Maps
National Radar Imagery
Fort Dix Doppler Radar Imagery
Snow storm, December 19-20, 2000
Snow storm, December 22, 2000
Snow storm, December 30, 2000
Snow storm, January 5, 2001
Snow and ice storm, January 20-21, 2001
Snow storm, February 5, 2001
Snow storm, February 22, 2001
Snow and ice storm, March 4-6, 2001
Back to Ray's Winter Storm Archive
Copyright © 2012 by
Raymond C Martin Jr
. All rights reserved