Storm description, surface observations, snowfall totals, and images courtesy of the
National Climatic Data Center
, the
National Centers of Environmental Prediction
, the
Climate Prediction Center
, the
Hydrometeorological Prediction Center
, the
Mount Holly National Weather Service Office
, the
Upton National Weather Service Office
,
Rutgers University
,
Plymouth State University
, the
University of Illinois
, the
American Meteorological Society
,
Weather Graphics Technologies
,
AccuWeather
, and the
Weather Channel
.




Table of Contents

Storm Summary

Regional Surface Observations
National Weather Service Forecasts
Surface Maps
Satellite Imagery
Sea Level Pressure and 1000 to 500 Millibar Thickness Maps
850 Millibar Maps
700 Millibar Maps
500 Millibar Maps
300 Millibar Maps
200 Millibar Maps
National Radar Imagery
Local Radar Imagery
Fort Dix Doppler Radar Imagery

Storm Photos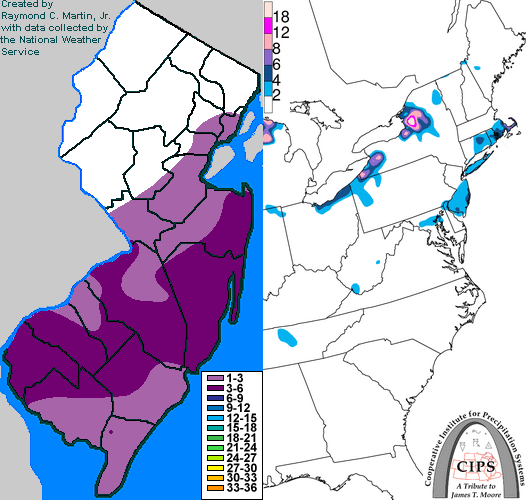 Contoured Snowfall Totals from December 23-24, 1998


STORM DESCRIPTION
A weak frontal wave brought a white Christmas to southern and central New Jersey.

Synoptic Discussion
A series of weak low pressures moved slowly northeast along a slow moving cold front in the western Atlantic Ocean. One of these, passing closest to New Jersey early on the 24th, brought a large-enough band of precipitation to affect southern and central New Jersey.

Local Discusion
This weak storm brought central and southern New Jersey its first wintry precipitation of the season. Precipitation fell mainly as snow, except along coastal sections of Atlantic, Cape May, and Cumberland counties, where precipitation mixed with or changed completely over to sleet. The snow started around 6 pm EST on the 23rd and changed over to sleet across far southeast New Jersey during the evening. The heaviest precipitation occured through the evening until around midnight. Light snow lingered through the early morning of the 24th, except in far southeastern New Jersey where a mixture of freezing drizzle and light sleet fell. The heaviest snowfall accumulations occured just to the north of the transition zone to sleet across Salem, southern Gloucester, southern Camden, western Atlantic, southern Burlington, and central Ocean counties, where accumulations averaged around 4 inches. Elsewhere accumulations where mainly 2 to 3 inches, except north of Somerset County where accumulations were an inch or less.




New Jersey Snowfall Totals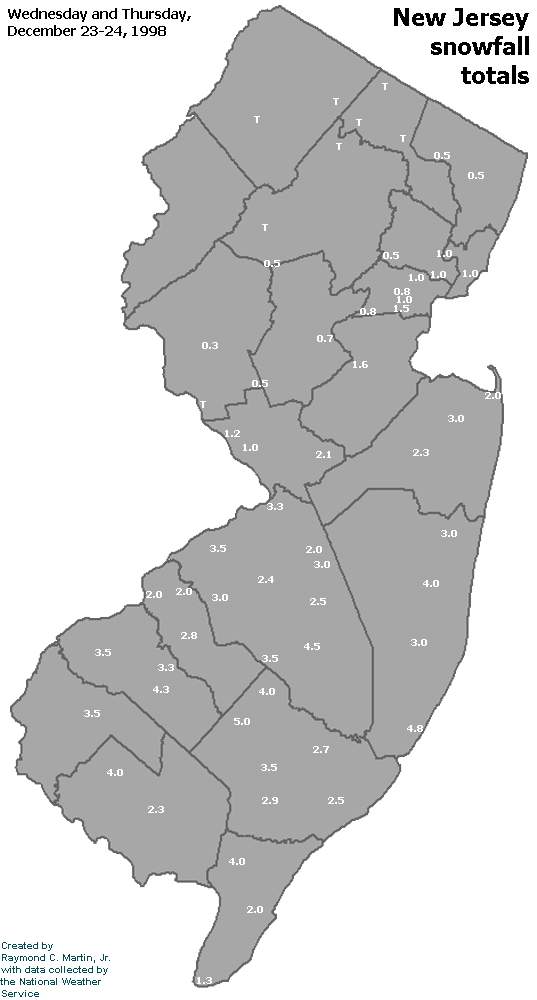 Individual Snowfall Totals from December 23-24, 1998




Table of Contents

Storm Summary

Regional Surface Observations
National Weather Service Forecasts
Surface Maps
Satellite Imagery
Sea Level Pressure and 1000 to 500 Millibar Thickness Maps
850 Millibar Maps
700 Millibar Maps
500 Millibar Maps
300 Millibar Maps
200 Millibar Maps
National Radar Imagery
Local Radar Imagery
Fort Dix Doppler Radar Imagery

Storm Photos
Snow storm, December 23-24, 1998

Snow and ice storm, January 8-9, 1999
Ice storm, January 13-15, 1999
Snow storm, March 14-15, 1999


Back to Ray's Winter Storm Archive
Copyright © 2012 by
Raymond C Martin Jr
. All rights reserved