Storm description, surface observations, snowfall totals, and images courtesy of the
National Climatic Data Center
, the
National Centers of Environmental Prediction
, the
Climate Prediction Center
, the
Hydrometeorological Prediction Center
, the
Mount Holly National Weather Service Office
, the
Upton National Weather Service Office
,
Rutgers University
,
Plymouth State University
, the
University of Illinois
, the
American Meteorological Society
,
Weather Graphics Technologies
,
AccuWeather
, and the
Weather Channel
.




Table of Contents

Storm Summary

Regional Surface Observations
National Weather Service Forecasts
Surface Maps
Satellite Imagery
National Surface Weather Maps - Pressure and Fronts Only

Continental Surface Weather Maps - Pressure and Fronts Only
Sea Level Pressure and 1000 to 500 Millibar Thickness Maps
850 Millibar Maps
700 Millibar Maps
500 Millibar Maps
300 Millibar Maps
200 Millibar Maps
National Radar Imagery
Regional Radar Imagery
Fort Dix Doppler Radar Imagery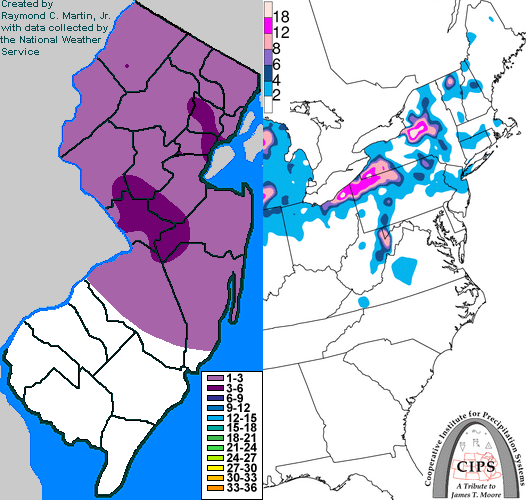 Contoured Snowfall Totals from December 4, 2005


STORM DESCRIPTION
The first widespread winter storm of the 2005-2006 winter season brought a mix of snow and freezing rain to most of New Jersey.

Synoptic Discussion
A storm system from the southern Plains advanced rapidly eastward across the Mississippi and Tennessee Valleys during the day on Saturday December 3rd, crossing the Appalachians during the night. By the afternoon of Sunday the 4th, the storm had moved off the Mid-Atlantic coast.

Local Discussion
Precipitation overspread the state between midnight and 3AM EST on the 4th. In most places it began in the form of snow, but started as rain or freezing rain in the far south. As dawn approached, warm air moving in aloft caused the precipitation to change from snow to a mixture of freezing rain and sleet from southwest to northeast. The mixture had overspread the rest of southern New Jersey by 6AM EST on the 4th and overspread central New Jersey by 9AM EST on the 4th. Meanwhile, the freezing rain and sleet changed to rain from south to north across most of southern New Jersey by 9AM EST. The precipitation tapered off between 7AM EST and 10AM EST on the 4th, early enough to prevent any freezing rain from reaching far northern parts of the state, and early enough to prevent plain rain from reaching central sections of the state. Accumulations were highest in central New Jersey, with 2 to 4 inches accumulating across Essex, Union, Hunterdon, Somerset, Middlesex, Monmouth and Mercer counties. The northern New Jersey counties of Sussex, Warren, Morris, Passaic, Bergen and Hudson received between 1 and 3 inches of snow. Burlington and Ocean counties in southern New Jersey recieved between 1 and 2 inches of snow. Further south, less than an inch accumulated across Camden, Gloucester, Salem, Atlantic, Cumberland and Cape May counties. Ice accrual was generaly one to two tenths of an inch or less.




New Jersey Snowfall Totals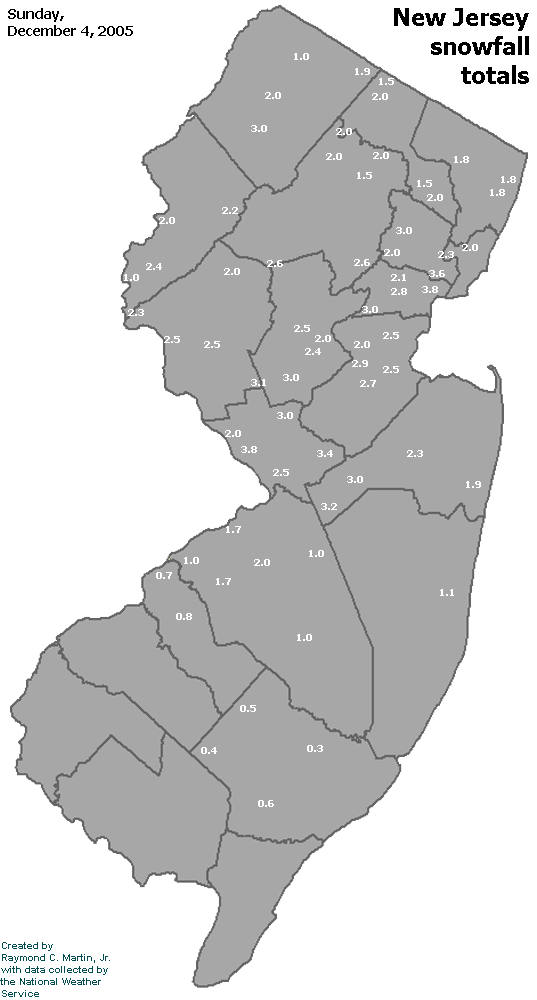 Individual Snowfall Totals from December 4, 2005




Table of Contents

Storm Summary

Regional Surface Observations
National Weather Service Forecasts
Surface Maps
Satellite Imagery
National Surface Weather Maps - Pressure and Fronts Only

Continental Surface Weather Maps - Pressure and Fronts Only
Sea Level Pressure and 1000 to 500 Millibar Thickness Maps
850 Millibar Maps
700 Millibar Maps
500 Millibar Maps
300 Millibar Maps
200 Millibar Maps
National Radar Imagery
Regional Radar Imagery
Fort Dix Doppler Radar Imagery
Snow and ice storm, December 4, 2005

Snow storm, December 5-6, 2005
Snow and ice storm, December 9, 2005
Snow storm, January 14-15, 2006
Snow storm, February 11-12, 2006
Back to Ray's Winter Storm Archive
Copyright © 2012 by
Raymond C Martin Jr
. All rights reserved