Storm description, surface observations, snowfall totals, and images courtesy of the
National Climatic Data Center
, the
National Centers of Environmental Prediction
, the
Climate Prediction Center
, the
Hydrometeorological Prediction Center
, the
Mount Holly National Weather Service Office
, the
Upton National Weather Service Office
,
Rutgers University
,
Plymouth State University
, the
University of Illinois
, the
American Meteorological Society
,
Weather Graphics Technologies
,
AccuWeather
, and the
Weather Channel
.




Table of Contents

Storm Summary

Regional Surface Observations
National Weather Service Forecasts
Surface Maps
Satellite Imagery
National Surface Weather Maps - Pressure and Fronts Only
Continental Surface Weather Maps - Pressure and Fronts Only
Sea Level Pressure and 1000 to 500 Millibar Thickness Maps
850 Millibar Maps
700 Millibar Maps
500 Millibar Maps
300 Millibar Maps
200 Millibar Maps
National Radar Imagery
Regional Radar Imagery
Fort Dix Doppler Radar Imagery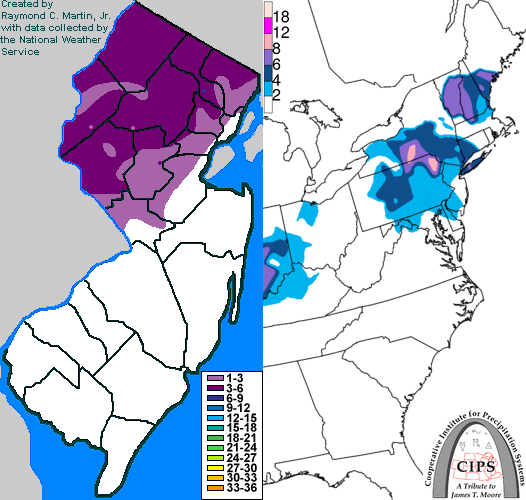 Contoured Snowfall Totals from December 29, 2012


STORM DESCRIPTION
A developing nor'easter brought a round of snow, sleet and freezing rain to New Jersey, with most frozen precipitation relegated to the northwestern half of the state.

Synoptic Discussion
A strong nor'easter pushed across New Jersey on the 26th and 27th, ushering a fresh batch of cold Canadian air into the area behind it. At the same time, a storm system moved into the southwestern United States from the Pacific Ocean, then redeveloped into two distinct low pressure systems on a stalled frontal boundary in the southern Plains. This system moved steadily eastward across the southern United States on the 27th and 28th, with the southern low reaching Florida and the northern low reaching eastern Kentucky by the early morning hours on the 29th. From here, the southern low moved northeast and consolidated with the northern low near Cape Hatteras by the midday hours on the 29th. It continued to move northeast while rapidly strengthening, reaching the Gulf of Maine early on the 29th and Nova Scotia a few hours later.

Local Discussion
Disjointed areas of precipitation gradually overspread New Jersey from the west during the morning of the 29th. Precipitation was mostly in the form of snow at the start in west-central and northern New Jersey, but began as rain or sleet further southeast. As warm air worked its way north and west, the snow changed to sleet, freezing rain and rain across west-central and northeastern New Jersey, but remained in the form of snow across the northwestern portion of the state. Precipitation ended gradually from southwest to northeast during the late afternoon and evening of the 29th, changing back to snow in some areas which had changed to sleet and rain in the process. Snow totals ranged from 3 to 6 inches in Passaic, Sussex and Hunterdon counties, 2 to 5 inches in Essex, Morris and Warren counties, 1 to 4 inches in Bergen, Somerset and Union counties, a coating to 2 inches in Hudson, Mercer and Middlesex counties, less than an inch in Monmouth, Bergen, Gloucester and Camden counties, and little to nothing further southeast.



New Jersey Snowfall Totals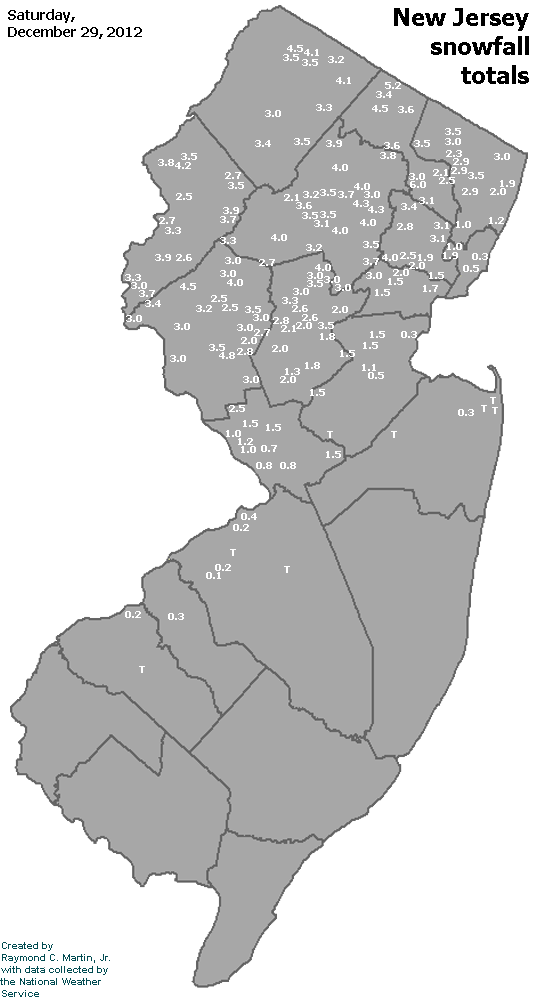 Individual Snowfall Totals from December 29, 2012


Table of Contents

Storm Summary

Regional Surface Observations
National Weather Service Forecasts
Surface Maps
Satellite Imagery
National Surface Weather Maps - Pressure and Fronts Only
Continental Surface Weather Maps - Pressure and Fronts Only
Sea Level Pressure and 1000 to 500 Millibar Thickness Maps
850 Millibar Maps
700 Millibar Maps
500 Millibar Maps
300 Millibar Maps
200 Millibar Maps
National Radar Imagery
Regional Radar Imagery
Fort Dix Doppler Radar Imagery
Snow storm, November 7-8, 2012
Snow and ice storm, December 29, 2012

Snow storm, January 25, 2013

Snow and ice storm, February 8-9, 2013
Snow storm, March 7-8, 2013
Snow storm, March 16, 2013
Back to Ray's Winter Storm Archive
Copyright © 2014 by
Raymond C Martin Jr
. All rights reserved