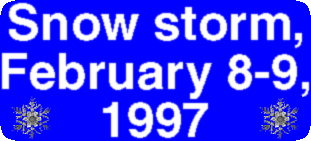 Storm description, surface observations, snowfall totals, and images courtesy of the
National Climatic Data Center
, the
National Centers of Environmental Prediction
, the
Climate Prediction Center
, the
Hydrometeorological Prediction Center
, the
Mount Holly National Weather Service Office
, the
Upton National Weather Service Office
,
Rutgers University
,
Plymouth State University
, the
University of Illinois
, the
American Meteorological Society
,
Weather Graphics Technologies
,
AccuWeather
, and the
Weather Channel
.




Table of Contents

Storm Summary

Regional Surface Observations
National Weather Service Forecasts
Surface Maps
Satellite Imagery
Sea Level Pressure and 1000 to 500 Millibar Thickness Maps
850 Millibar Maps
700 Millibar Maps
500 Millibar Maps
300 Millibar Maps
200 Millibar Maps
National Radar Imagery
Local Radar Imagery
Fort Dix Doppler Radar Imagery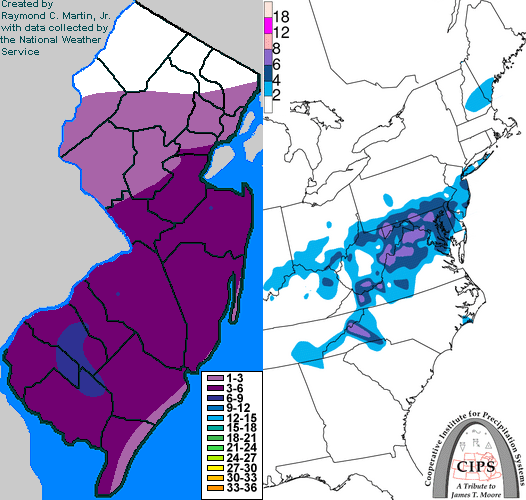 Contoured Snowfall Totals from February 8-9, 1997


STORM DESCRIPTION
A Gulf Coast system brought a period of moderate to heavy snow to southern New Jersey, with lighter snows further north.

Synoptic Discussion
The low pressure initially formed in the western Gulf of Mexico on the 7th. By the morning of the 8th, 3 separate centers were present: one in Georgia, another in western North Carolina, and a third near Cape Hattaras. They combined into one center by the afternoon of the 8th, but then quickly moved out to sea, and was 450 miles east of Atlantic City by 7AM EST on the 9th. The rapid movement prevented heavier accumulations from falling.

Local Discussion
Snow moved into New Jersey during the morning of the 8th. It became heavy at times during the afternoon in southern sections, but remained lighter farther north. Two particularly heavy bands of snow developed over Salem, Gloucester, Camden, and Burlington counties, and over northern Mercer, southern Middlesex, and Monmouth counties. The snow tapered off to flurries just after midnight EST on the 9th. This was the heaviest snow to date for the 1996-1997 winter season over southern New Jersey, with 3 to 6 inches accumulating in Salem, Cumberland, Gloucester, Camden, Burlington and Monmouth counties. Less snow fell further northwest, with 4 to 5 inches in Mercer, Middlesex, and Union counties, 1 to 3 inches in Hunterdon, Somerset, Morris, Essex, Passaic, Hudson, and Bergen counties, and 1 inch or less in Sussex and Warren counties, the usual snowiest places. The southern coast also saw less snow due to temperatures above freezing, which caused the snow to mix with rain at times. Only 2 to 3 inches accumulated in Cape May County, with 3 to 5 inches in Atlantic and Ocean counties.




New Jersey Snowfall Totals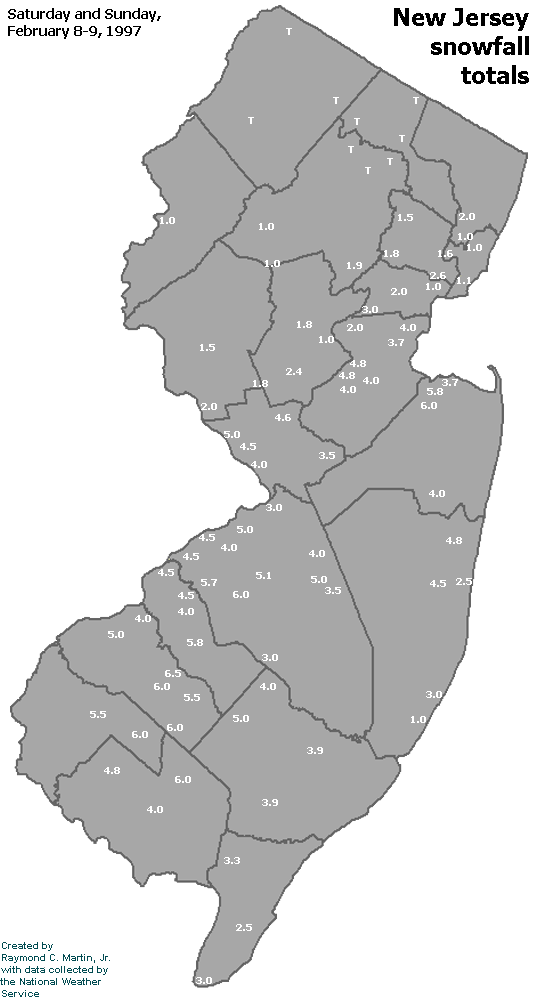 Individual Snowfall Totals from February 8-9, 1997


Regional Snowfall Totals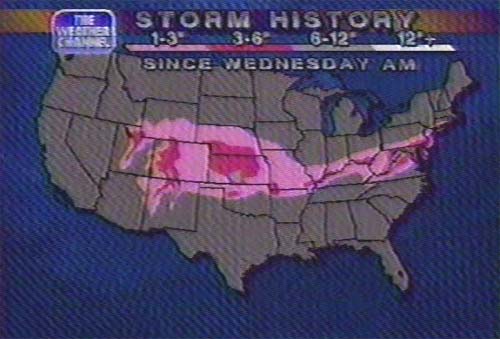 Snowfall totals from 0900Z 09 February 1997 (4AM EST 09 February 1997)




Table of Contents

Storm Summary

Regional Surface Observations
National Weather Service Forecasts
Surface Maps
Satellite Imagery
Sea Level Pressure and 1000 to 500 Millibar Thickness Maps
850 Millibar Maps
700 Millibar Maps
500 Millibar Maps
300 Millibar Maps
200 Millibar Maps
National Radar Imagery
Local Radar Imagery
Fort Dix Doppler Radar Imagery
Snow and ice storm, January 9, 1997
Snow storm, January 11, 1997

Snow storm, February 8-9, 1997

Snow storm, February 14, 1997
Snow storm, March 3, 1997
Snow and ice storm, March 9-10, 1997
Snow storm, March 31-April 1, 1997
Snow storm, April 18, 1997


Back to Ray's Winter Storm Archive
Copyright © 2012 by
Raymond C Martin Jr
. All rights reserved