Storm description, surface observations, snowfall totals, and images courtesy of the
National Climatic Data Center
, the
National Centers of Environmental Prediction
, the
Climate Prediction Center
, the
Hydrometeorological Prediction Center
, the
Mount Holly National Weather Service Office
, the
Upton National Weather Service Office
,
Rutgers University
,
Plymouth State University
, the
University of Illinois
, the
American Meteorological Society
,
Weather Graphics Technologies
,
AccuWeather
, and the
Weather Channel
.




Table of Contents

Storm Summary

Regional Surface Observations
National Weather Service Forecasts
Surface Maps
Satellite Imagery
Sea Level Pressure and 1000 to 500 Millibar Thickness Maps
850 Millibar Maps
700 Millibar Maps
500 Millibar Maps
300 Millibar Maps
200 Millibar Maps
National Radar Imagery
Local Radar Imagery
Fort Dix Doppler Radar Imagery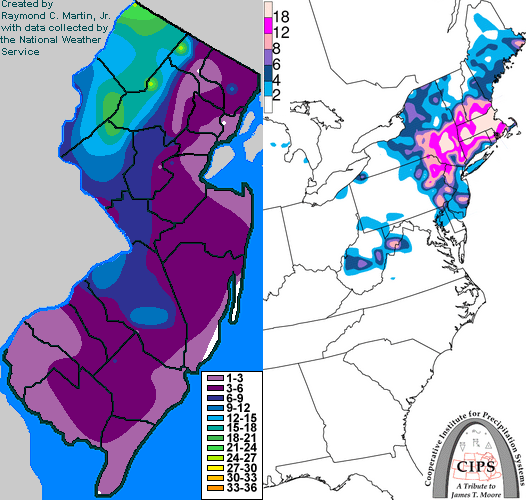 Contoured Snowfall Totals from March 31-April 1, 1997


STORM DESCRIPTION
A late season snowstorm dropped some of the heaviest snow of all winter across New Jersey from the morning of March 31st to the morning of April 1st.

Synoptic Discussion
A low pressure system and its associated cold front moved through the Midwest on March 30th. The low then intensified as it passed off the New Jersey coast early on the 31st. It moved slowly east-northeast, passing south of Long Island on the afternoon of March 31st and south of Cape Cod on the morning of April 1st.

Local Discussion
As the low developed early on the 31st, heavy rain overspread the state. As the low intensified to the east, the combination of strong northwest winds and heavy precipitation cooled the atmosphere enough to allow the rain to change to snow later on the 31st. The rain changed to snow close to dawn across extreme northwestern New Jersey. The rain/snow line progressed southerly, engulfing the rest of northwest New Jersey by 9 am EST and reaching the Philadelphia metropolitan area by noon EST. However, a pocket of warm air associated with the low pressure center itself kept precipitation in the form of rain in northeastern and east central New Jersey for most of the day. In those areas the changeover did not take place until the night of the 31st. Bands of heavy precipitation wrapped around the low pressure and moved back through the Mid-Atlantic states. This caused wide variations in snowfall due to local temperatures, the locations of the bands, and elevation. Sussex, Warren and northwestern Morris counties in the northwest recieved between 1 and 2 feet of snow. Further south, 6 to 18 inches fell in Hunterdon, Somerset, Mercer, and Burlington counties in west central New Jersey. Other areas saw more rain and less snow. Accumulations averaged around 5 inches in Camden, Gloucester, and Salem counties in southwestern New Jersey, averaged between 3 and 6 inches in western Atlantic and Cumberland counties in the southern part of the state, and averaged around 3 inches in Bergen, Passaic, Essex, Union, Middlesex, Monmouth, and western Ocean counties of northeast and east central New Jersey. Coastal Ocean, Atlantic, and Cape May counties in the southeast, as well as Hudson County in the northeast, generally recieved less than an inch of snow. The storm also caused extremely strong winds across the state, reaching up to 70 mph in gusts.




New Jersey Snowfall Totals

Individual Snowfall Totals from March 31-April 1, 1997


Regional Snowfall Totals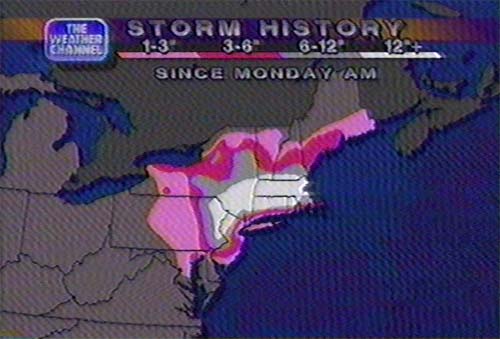 Snow Totals from 0000Z 02 April 1997 (7PM EST 01 April 1997)




Table of Contents

Storm Summary

Regional Surface Observations
National Weather Service Forecasts
Surface Maps
Satellite Imagery
Sea Level Pressure and 1000 to 500 Millibar Thickness Maps
850 Millibar Maps
700 Millibar Maps
500 Millibar Maps
300 Millibar Maps
200 Millibar Maps
National Radar Imagery
Local Radar Imagery
Fort Dix Doppler Radar Imagery
Snow and ice storm, January 9, 1997
Snow storm, January 11, 1997
Snow storm, February 8-9, 1997
Snow storm, February 14, 1997
Snow storm, March 3, 1997
Snow and ice storm, March 9-10, 1997

Snow storm, March 31-April 1, 1997

Snow storm, April 18, 1997


Back to Ray's Winter Storm Archive
Copyright © 2012 by
Raymond C Martin Jr
. All rights reserved