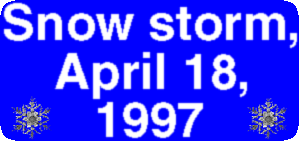 Storm description, surface observations, snowfall totals, and images courtesy of the
National Climatic Data Center
, the
National Centers of Environmental Prediction
, the
Climate Prediction Center
, the
Hydrometeorological Prediction Center
, the
Mount Holly National Weather Service Office
, the
Upton National Weather Service Office
,
Rutgers University
,
Plymouth State University
, the
University of Illinois
, the
American Meteorological Society
,
Weather Graphics Technologies
,
AccuWeather
, and the
Weather Channel
.




Table of Contents

Storm Summary

Regional Surface Observations
National Weather Service Forecasts
Surface Maps
Satellite Imagery
Sea Level Pressure and 1000 to 500 Millibar Thickness Maps
850 Millibar Maps
700 Millibar Maps
500 Millibar Maps
300 Millibar Maps
200 Millibar Maps
National Radar Imagery
Local Radar Imagery
Fort Dix Doppler Radar Imagery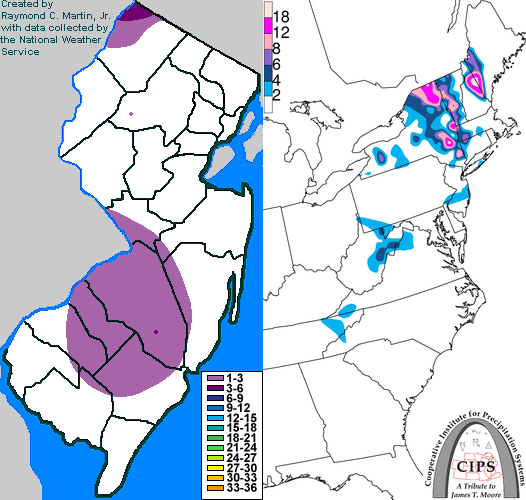 Contoured Snowfall Totals from April 18, 1997


STORM DESCRIPTION
A late season nor'easter brought a quick shot of late spring snow to portions of New Jersey.

Synoptic Discussion
A low pressure deepened rapidly just south of Long Island during the evening of the 17th and morning of the 18th. It slowly drifted eastward out to sea on the 19th.

Local Discussion
A cold front moved through the state during the day on the 17th, bringing cooler air southeastward across the state. As a low pressure strengthened and stalled south of Long Island on the evening of the 17th, showers began to rotate southward into New Jersey. Scattered bands of moderate to heavy precipitation rotated around the low pressure and down into New Jersey on the morning of the 18th. In northwestern and southern New Jersey, the bands were heavy enough to cool the atmosphere by the melting process, causing areas of heavy rain to change to snow. Scattered parts of northwestern New Jersey and a fairly large swath of southern New Jersey recieved between 1 and 3 inches of snow during the morning of the 18th, while High Point in Sussex County received over 6 inches. Elsewhere in the state, temperatures were too warm, elevations too low, and precipitation too light to cause any accumulation with the changeover. The initial precipitation ended by midday, and precipitation fell mainly as rain later that evening when additional, less intense bands of precipitation rotated through the state.




New Jersey Snowfall Totals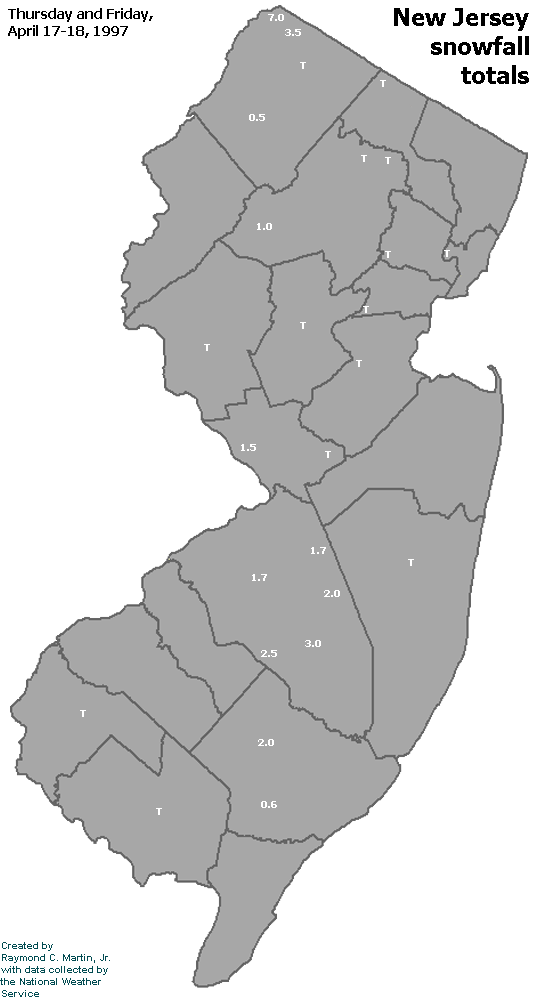 Individual Snowfall Totals from April 18, 1997




Table of Contents

Storm Summary

Regional Surface Observations
National Weather Service Forecasts
Surface Maps
Satellite Imagery
Sea Level Pressure and 1000 to 500 Millibar Thickness Maps
850 Millibar Maps
700 Millibar Maps
500 Millibar Maps
300 Millibar Maps
200 Millibar Maps
National Radar Imagery
Local Radar Imagery
Fort Dix Doppler Radar Imagery
Snow and ice storm, January 9, 1997
Snow storm, January 11, 1997
Snow storm, February 8-9, 1997
Snow storm, February 14, 1997
Snow storm, March 3, 1997
Snow and ice storm, March 9-10, 1997
Snow storm, March 31-April 1, 1997

Snow storm, April 18, 1997


Back to Ray's Winter Storm Archive
Copyright © 2012 by
Raymond C Martin Jr
. All rights reserved