Storm description, surface observations, snowfall totals, and images courtesy of the
National Climatic Data Center
, the
National Centers of Environmental Prediction
, the
Climate Prediction Center
, the
Hydrometeorological Prediction Center
, the
Mount Holly National Weather Service Office
, the
Upton National Weather Service Office
,
Rutgers University
,
Plymouth State University
, the
University of Illinois
, the
American Meteorological Society
,
Weather Graphics Technologies
,
AccuWeather
, and the
Weather Channel
.




Table of Contents

Storm Summary

Regional Surface Observations
National Weather Service Forecasts
Surface Maps
Satellite Imagery
National Surface Weather Maps - Pressure and Fronts Only
Continental Surface Weather Maps - Pressure and Fronts Only
Sea Level Pressure and 1000 to 500 Millibar Thickness Maps
850 Millibar Maps
700 Millibar Maps
500 Millibar Maps
300 Millibar Maps
200 Millibar Maps
National Radar Imagery
Regional Radar Imagery
Fort Dix Doppler Radar Imagery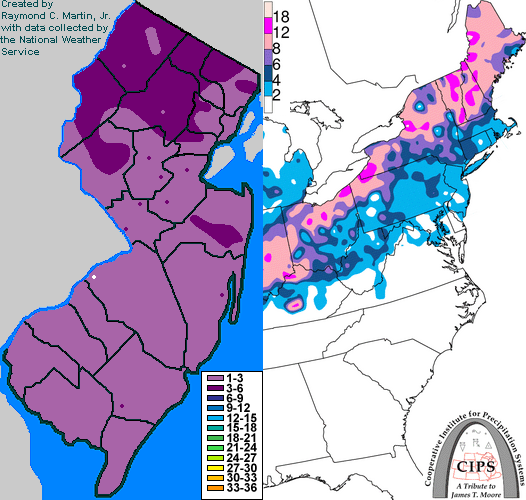 Contoured Snowfall Totals from January 27-28, 2009


STORM DESCRIPTION
A large storm system brought a mixture of snow, sleet, freezing rain and rain to New Jersey.

Synoptic Discussion
A cold front pushed southeastward across the region on the 25th and stalled over the Southeast on the 26th. A storm system then began to develop along the front over the south-central states and started moving northeastward. The low pressure tracked across the Tennessee Valley on the 27th and moved into the eastern Great Lakes on the 28th. At the same time, a secondary low pressure developed near New York City on the 28th. This second low became the primary low by late on the 28th as the original primary low weakened over western New York State. The new low pressure moved northeastward toward the Canadian Maritimes by the 29th.

Local Discussion
Precipitation overspread New Jersey from southwest to northeast during the late evening and overnight hours of the 27th. It initially started as snow everywhere, but began transitioning to sleet and then freezing rain from southwest to northeast during the mornng hours of the 28th. The transition begun in far southwestern New Jersey around 2 AM EST, started around Camden and Atlantic City around 4AM EST, began in the Trenton area by 6 AM EST, was in progress in metro Newark by 9 AM EST, and started in the rest of northern New Jersey by 11 AM EST. Warmer air moved in at the surface from southeast to northwest during the day on the 28th, causing temperatures to slowly rise above freezing. Temperatures rose above freezing in far southeastern New Jersey by 4 AM EST, in southwestern and central New Jersey by 9 AM EST, and in west central and northeastern New Jersey by 1 PM EST. Temperatures in far northwestern New Jersey remained below freezing until the end of the event. As temperatures rose and precipitation tapered off, dense fog became common during the afternoon of the 28th across the state. A final band of mainly rain showers moved across the state during the late afternoon and early evening as the occluded front associated with the primary low pressure moved through. Snowfall accumulations ranged from 2 to 4 inches in Sussex, Passaic, Warren, Morris, Bergen, Essex and Union counties, and ranged from 1 to 3 inches further south.




New Jersey Snowfall Totals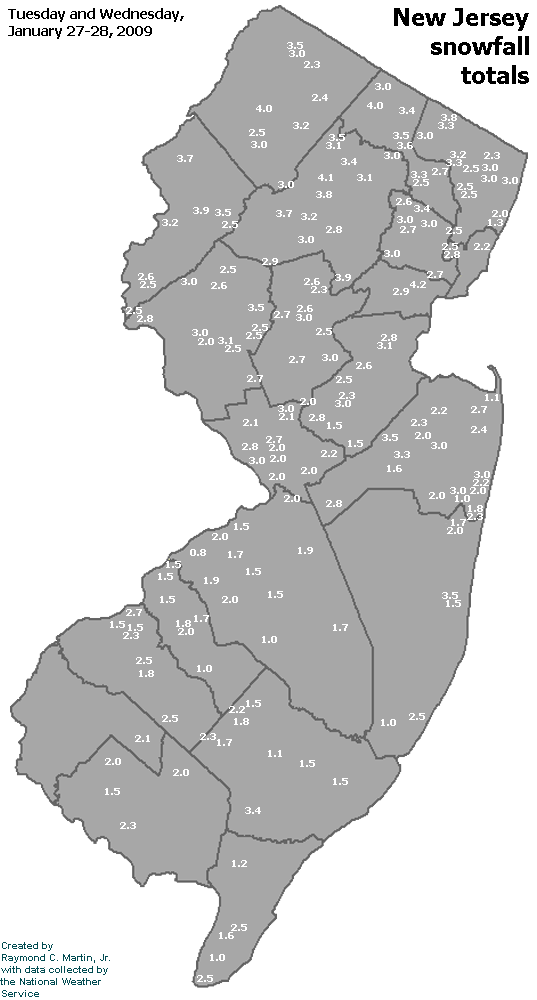 Individual Snowfall Totals from January 27-28, 2009




Table of Contents

Storm Summary

Regional Surface Observations
National Weather Service Forecasts
Surface Maps
Satellite Imagery
National Surface Weather Maps - Pressure and Fronts Only
Continental Surface Weather Maps - Pressure and Fronts Only
Sea Level Pressure and 1000 to 500 Millibar Thickness Maps
850 Millibar Maps
700 Millibar Maps
500 Millibar Maps
300 Millibar Maps
200 Millibar Maps
National Radar Imagery
Regional Radar Imagery
Fort Dix Doppler Radar Imagery
Snow and ice storm, December 16-17, 2008
Snow storm, January 19, 2009

Snow and ice storm, January 27-28, 2009
Snow storm, February 2-4, 2009
Snow storm, March 1-2, 2009
Back to Ray's Winter Storm Archive
Copyright © 2012 by
Raymond C Martin Jr
. All rights reserved