Storm description, surface observations, snowfall totals, and images courtesy of the
National Climatic Data Center
, the
National Centers of Environmental Prediction
, the
Climate Prediction Center
, the
Hydrometeorological Prediction Center
, the
Mount Holly National Weather Service Office
, the
Upton National Weather Service Office
,
Rutgers University
,
Plymouth State University
, the
University of Illinois
, the
American Meteorological Society
,
Weather Graphics Technologies
,
AccuWeather
, and the
Weather Channel
.





Table of Contents

Storm Summary

Regional Surface Observations
Satellite Imagery
Sea Level Pressure and 1000 to 500 Millibar Thickness Maps
850 Millibar Maps
700 Millibar Maps
500 Millibar Maps
300 Millibar Maps
200 Millibar Maps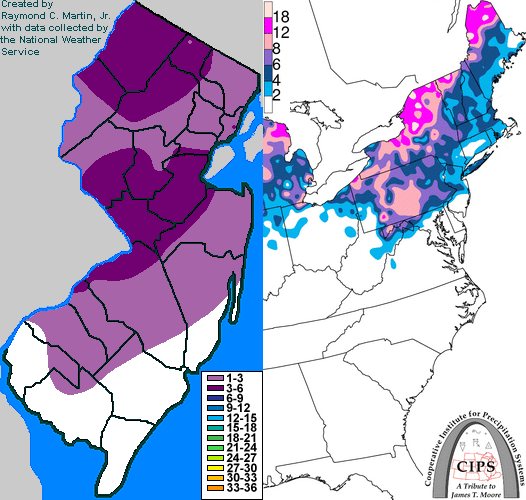 Contoured Snowfall Totals from February 23-24, 1994


STORM DESCRIPTION
A storm system of Mexican origin brought another round of snow, ice and rain to most of New Jersey.

Synoptic Discussion
A low pressure system developed along a stalled frontal boundary in northern Mexico on February 21st. It moved eastward across Texas and Louisiana on the 22nd, then turned northeast and moved into the Ohio Valley and Great Lakes on the 23rd. A secondary low pressure developed just east of the Delmarva peninsula early on the 24th as the primary low dissipated over the eastern Great Lakes. By the evening of the 24th, the new low pressure reached Nova Scotia.

Local Discussion
Precipitation overspread the state from southwest to northeast during the morning of the 23rd. Across northern, central and southwestern New Jersey, the precipitation started as a burst of heavy snow, while in southeastern New Jersey, it only briefly mixed with snow before changing to plain rain. As warm air moved northward aloft during the afternoon, the snow mixed with and changed to sleet and freezing rain across southwestern, central and northern New Jersey during the afternoon of the 23rd. Temperatures also warmed near the ground across central and southwestern New Jersey, causing the sleet and freezing rain to change to plain rain by late afternoon. However, during the night of the 23rd, temperatures fell back below freezing in these areas, causing the liquid precipitation to start freezing on some surfaces. However, by this time precipitation was much lighter and consisted mainly of drizzle. Temperatures then warmed back up above freezing in most areas during the morning of the 24th, resulting in plain rain and drizzle in most areas. The rain briefly mixed with sleet and snow again before ending around midday on the 24th as cold air wrapped back across the state in the storm's wake. Accumulations averaged 2 to 6 inches across central and northern New Jersey, with only a coating to 3 inches accumulating across southern New Jersey.




New Jersey Snowfall Totals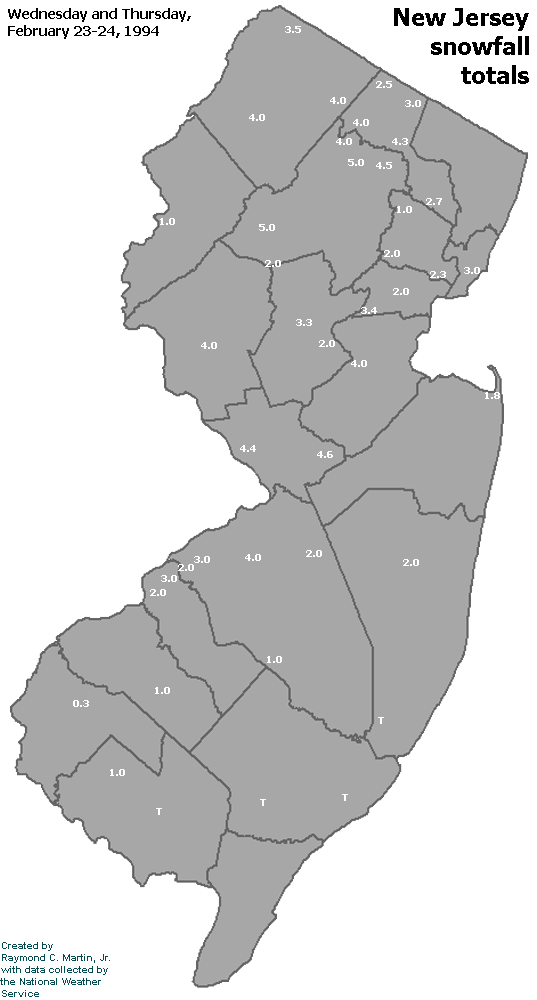 Individual Snowfall Totals from February 23-24, 1994




Table of Contents

Storm Summary

Regional Surface Observations
Satellite Imagery
Sea Level Pressure and 1000 to 500 Millibar Thickness Maps
850 Millibar Maps
700 Millibar Maps
500 Millibar Maps
300 Millibar Maps
200 Millibar Maps
Snow storm, December 29-30, 1993
Ice storm, January 3-4, 1994
Ice storm, January 7-8, 1994
Snow and ice storm, January 17-18, 1994
Snow storm, January 25-26, 1994
Snow and ice storm, February 8-9, 1994
Snow and ice storm, February 11, 1994
Snow and ice storm, February 23-24, 1994
Snow and ice storm, March 2-3, 1994
Snow storm, March 18, 1994
Back to Ray's Winter Storm Archive
Copyright © 2012 by
Raymond C Martin Jr
. All rights reserved