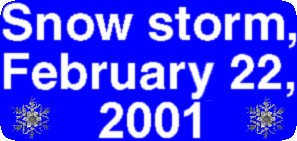 Storm description, surface observations, snowfall totals, and images courtesy of the
National Climatic Data Center
, the
National Centers of Environmental Prediction
, the
Climate Prediction Center
, the
Hydrometeorological Prediction Center
, the
Mount Holly National Weather Service Office
, the
Upton National Weather Service Office
,
Rutgers University
,
Plymouth State University
, the
University of Illinois
, the
American Meteorological Society
,
Weather Graphics Technologies
,
AccuWeather
, and the
Weather Channel
.




Table of Contents

Storm Summary

Regional Surface Observations
Satellite Imagery
National Surface Weather Maps - Pressure and Fronts Only
Sea Level Pressure and 1000 to 500 Millibar Thickness Maps
850 Millibar Maps
700 Millibar Maps
500 Millibar Maps
300 Millibar Maps
200 Millibar Maps
National Radar Imagery
Fort Dix Doppler Radar Imagery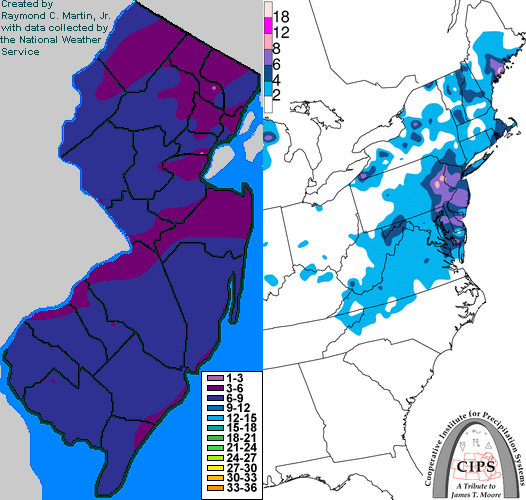 Contoured Snowfall Totals from February 22, 2001


STORM DESCRIPTION
A fast moving storm system from the southern Plains brought the heaviest snow of the season to much of southern New Jersey. Significant snow also fell in central and northern parts of the state.

Synoptic Discussion
An arctic high pressure settled over the Northeast late on Wednesday the 21st. At the same time, a low pressure system developed along the Red River Valley in the southern Plains. By Thursday morning the 22nd, it had moved eastward to northern Alabama. It then turned northeasterly, and began to push mild, moist air over the cold air mass already in place, resulting in widespread snowfall. The storm continued its was fast movement and was 300 miles east of the Delmarva Peninsula by the morning of Friday the 23rd, taking the snow and cold air with it.

Local Discussion
Snow began falling during the first half of the afternoon of the 22nd. Cold weather which had settled in on the previous day allowed the snow to accumulate quickly, and also produced very high snow-to-water ratios on the order of 20-to-1. The heaviest snow fell during the latter half of the afternoon and early part of the evening, when snowfall rates of 1 to 2 inches per hour were common. The snow tapered off from southwest to northeast around midnight EST on the 23rd. Snowfall totals were very similar across much of the state, ranging from 4 to 8 inches in most areas. The highest totals of around 8 inches were reported from Hunterdon county in west-central New Jersey and Atlantic County in southeastern New Jersey.




New Jersey Snowfall Totals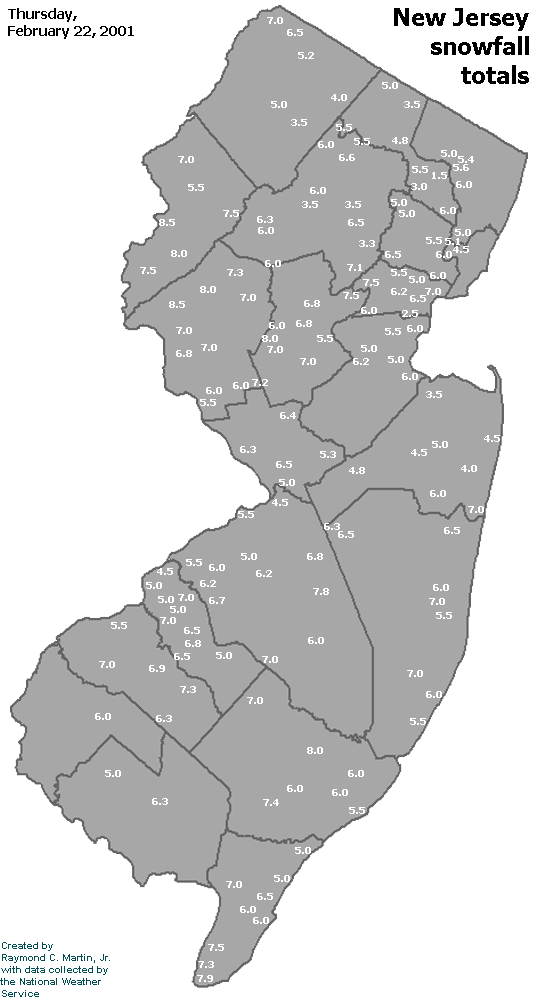 Individual Snowfall Totals from February 22, 2001




Table of Contents

Storm Summary

Regional Surface Observations
Satellite Imagery
National Surface Weather Maps - Pressure and Fronts Only
Sea Level Pressure and 1000 to 500 Millibar Thickness Maps
850 Millibar Maps
700 Millibar Maps
500 Millibar Maps
300 Millibar Maps
200 Millibar Maps
National Radar Imagery
Fort Dix Doppler Radar Imagery
Snow storm, December 19-20, 2000
Snow storm, December 22, 2000
Snow storm, December 30, 2000
Snow storm, January 5, 2001
Snow and ice storm, January 20-21, 2001
Snow storm, February 5, 2001
Snow storm, February 22, 2001
Snow and ice storm, March 4-6, 2001
Back to Ray's Winter Storm Archive
Copyright © 2012 by
Raymond C Martin Jr
. All rights reserved