Storm description, surface observations, snowfall totals, and images courtesy of the
National Climatic Data Center
, the
National Centers of Environmental Prediction
, the
Climate Prediction Center
, the
Hydrometeorological Prediction Center
, the
Mount Holly National Weather Service Office
, the
Upton National Weather Service Office
,
Rutgers University
,
Plymouth State University
, the
University of Illinois
, the
American Meteorological Society
,
Weather Graphics Technologies
,
AccuWeather
, and the
Weather Channel
.




Table of Contents

Storm Summary

Regional Surface Observations
National Weather Service Forecasts
Surface Maps
Satellite Imagery
National Surface Weather Maps - Pressure and Fronts Only
Continental Surface Weather Maps - Pressure and Fronts Only
Sea Level Pressure and 1000 to 500 Millibar Thickness Maps
850 Millibar Maps
700 Millibar Maps
500 Millibar Maps
300 Millibar Maps
200 Millibar Maps
National Radar Imagery
Regional Radar Imagery
Fort Dix Doppler Radar Imagery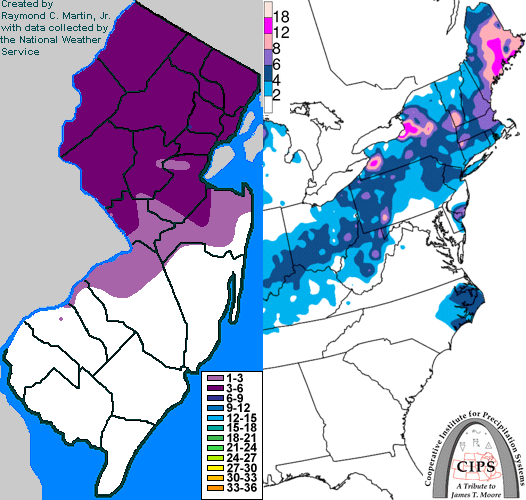 Contoured Snowfall Totals from January 21, 2011


STORM DESCRIPTION
A pair of low pressure systems brought another round of snow to northern and central New Jersey, with a mixture of snow, sleet and rain in southern New Jersey.

Synoptic Discussion
Two low pressure systems combined to produce this winter storm. The first low dropped southward over Lake Superior from Canada on the morning of the 20th, while the second low developed in Kentucky at about the same time. By the evening of the 20th, the northern low was near the eastern end of Lake Superior while the southern low was over West Virginia. By the morning of the 21st the two lows had begun to coalesce and strengthen, with the southern low centered just south of Rhode Island and the northern low located in southeastern Ontario. By the evening of the 21st, the now-merged lows had continued to strengthen and was centered near Nova Scotia.

Local Discussion
Precipitation overspread New Jersey from west to east just after midnight on January 21st. Across southeastern New Jersey, precipitation was mostly in the form of rain. Further north and west, a mixture of snow, sleet, freezing rain and rain fell across southwestern and east-central New Jersey. Still further north and west, precipitation was in the form of snow throughout the storm in west-central and northern New Jersey. Precipitation ended from west to east across the state by dawn on the 21st. Snowfall amounts were greatest in northern New Jersey and nil in southern New Jersey, with accumulations ranging from 3 to 7 inches in Bergen, Essex, Hudson, Hunterdon, Middlesex, Morris, Passaic, Somerset, Sussex and Warren counties and a coating to 4 inches in Burlington, Camden, Gloucester, Mercer, Monmouth and Ocean counties. Little or no snow fell in Atlantic, Cape May, Cumberland and Salem counties. Ice accumulations were minimal.





New Jersey Snowfall Totals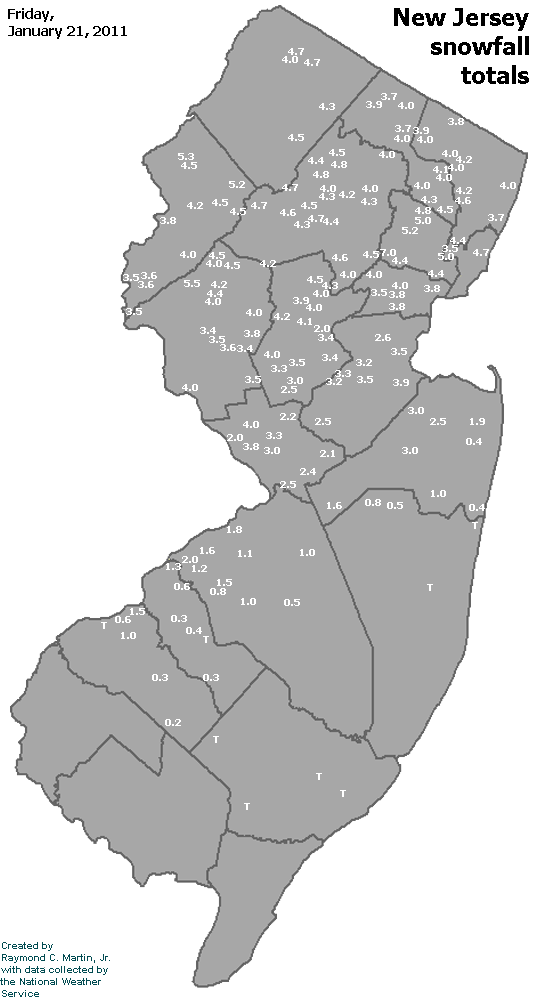 Individual Snowfall Totals from January 21, 2011




Table of Contents

Storm Summary

Regional Surface Observations
National Weather Service Forecasts
Surface Maps
Satellite Imagery
National Surface Weather Maps - Pressure and Fronts Only
Continental Surface Weather Maps - Pressure and Fronts Only
Sea Level Pressure and 1000 to 500 Millibar Thickness Maps
850 Millibar Maps
700 Millibar Maps
500 Millibar Maps
300 Millibar Maps
200 Millibar Maps
National Radar Imagery
Regional Radar Imagery
Fort Dix Doppler Radar Imagery
Snow storm, December 26-27, 2010
Snow storm, January 7, 2011

Snow storm, January 8, 2011

Snow storm, January 11-12, 2011
Snow and ice storm, January 17-18, 2011
Snow storm, January 21, 2011
Snow and ice storm, January 26-27, 2011
Snow storm, February 21-22, 2011
Back to Ray's Winter Storm Archive
Copyright © 2011 by
Raymond C Martin Jr
. All rights reserved