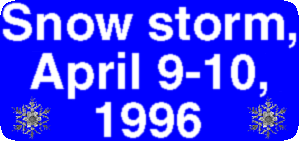 Storm description, surface observations, snowfall totals, and images courtesy of the
National Climatic Data Center
, the
National Centers of Environmental Prediction
, the
Climate Prediction Center
, the
Hydrometeorological Prediction Center
, the
Mount Holly National Weather Service Office
, the
Upton National Weather Service Office
,
Rutgers University
,
Plymouth State University
, the
University of Illinois
, the
American Meteorological Society
,
Weather Graphics Technologies
,
AccuWeather
, and the
Weather Channel
.




Table of Contents

Storm Summary

Regional Surface Observations
National Weather Service Forecasts
Surface Maps
Satellite Imagery
Sea Level Pressure and 1000 to 500 Millibar Thickness Maps
850 Millibar Maps
700 Millibar Maps
500 Millibar Maps
300 Millibar Maps
200 Millibar Maps
National Radar Imagery
Local Radar Imagery
Fort Dix Doppler Radar Imagery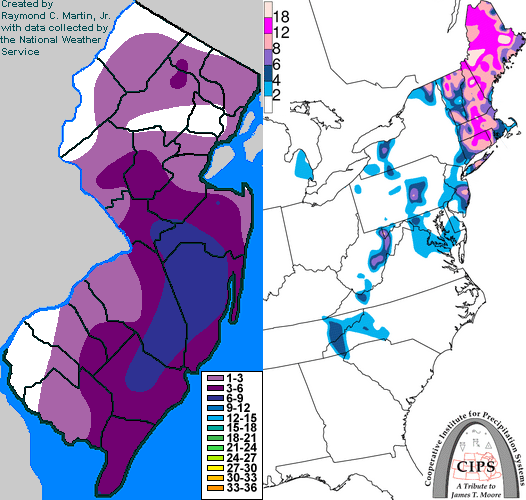 Contoured Snowfall Totals from April 9-10, 1996


STORM DESCRIPTION
One final coastal low developed and brought a swath of heavy, wet snow to the state, particularly along the coast. This storm brought the last measurable snow to New Jersey for the 1995-1996 winter season, and helped break most of the remaining seasonal snowfall records as well as add to the already broken records.

Synoptic Discussion
A low pressure developed near Cape Hattaras on the morning of the 9th, intensified and moved slowly northeast during the next 24 hours. It reached Cape Cod on the morning of the 10th.

Local Discussion
Precipitation started as rain in southern New Jersey and as a rain/snow mix further north during the predawn hours of the 9th. Precipitation type became intensity dependent during the day on the 9th; as intensity increased, it fell as snow, and when it decreased it changed back to rain. Nevertheless, above freezing temperatures and indirect radiation from the strong April sun allowed nearly all the snow to melt as it reached the surface. As sunset arrived (after 7pm EDT), the snow began to accumulate mainly on grassy surfaces and overpasses throughout the state. However, intense heavy wet snow bands developed and remained nearly stationary over coastal sections of New Jersey where the snow accumulated on all surfaces. By evening, all the intense precipitation was confined to the east of the New Jersey Turnpike. Accumulations averaged around 2 inches with the lightest amounts in Sussex County; however, 5 to 8 inches accumulated in the coastal counties due to the persistant heavy snow bands. The precipitation tapered off during the predawn hours of the 10th. This was the last measurable snow of the season for New Jersey.




New Jersey Snowfall Totals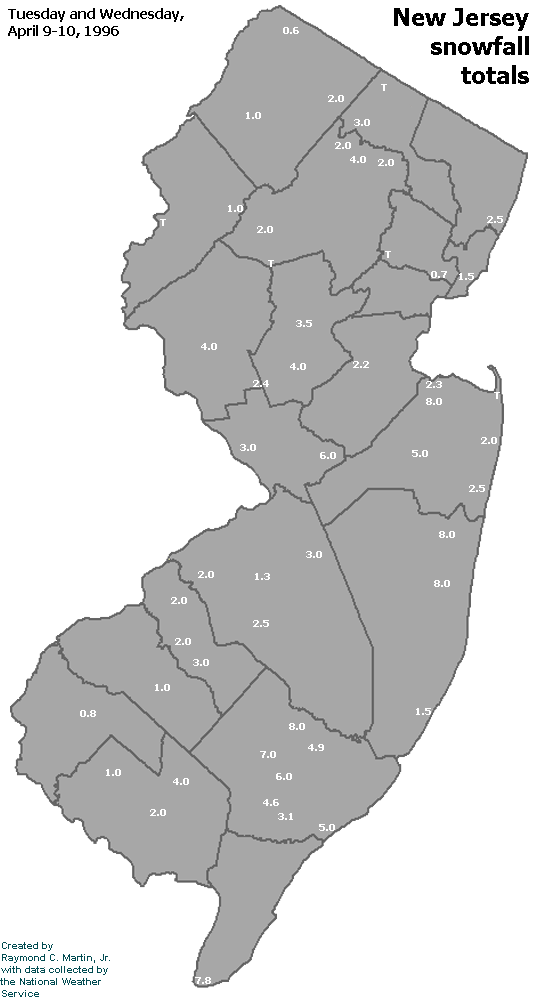 Individual Snowfall Totals from April 9-10, 1996


Regional Snowfall Totals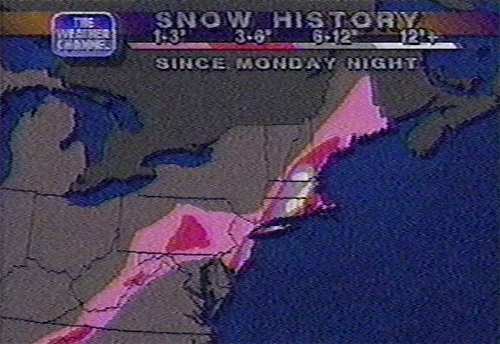 Snowfall totals from 2000Z 10 April 1996 (5PM EDT 10 April 1996)




Table of Contents

Storm Summary

Regional Surface Observations
National Weather Service Forecasts
Surface Maps
Satellite Imagery
Sea Level Pressure and 1000 to 500 Millibar Thickness Maps
850 Millibar Maps
700 Millibar Maps
500 Millibar Maps
300 Millibar Maps
200 Millibar Maps
National Radar Imagery
Local Radar Imagery
Fort Dix Doppler Radar Imagery
Snow storm, November 28-29, 1995
Snow storm, December 9, 1995
Snow and ice storm, December 14, 1995
Snow storm, December 16, 1995
Snow and ice storm, December 18-20, 1995
Ice storm, January 2-3, 1996
Blizzard, January 7-8, 1996
Snow and ice storm, January 12, 1996
Snow storm, February 2-3, 1996
Snow storm, February 16-17, 1996
Snow storm, March 2, 1996
Snow and ice storm, March 7-8, 1996
Snow storm, April 9-10, 1996
Back to Ray's Winter Storm Archive
Copyright © 2012 by
Raymond C Martin Jr
. All rights reserved