Storm description, surface observations, snowfall totals, and images courtesy of the
National Climatic Data Center
, the
National Centers of Environmental Prediction
, the
Climate Prediction Center
, the
Hydrometeorological Prediction Center
, the
Mount Holly National Weather Service Office
, the
Upton National Weather Service Office
,
Rutgers University
,
Plymouth State University
, the
University of Illinois
, the
American Meteorological Society
,
Weather Graphics Technologies
,
AccuWeather
, and the
Weather Channel
.




Table of Contents

Storm Summary

Regional Surface Observations
National Weather Service Forecasts
Surface Maps
Satellite Imagery
National Surface Weather Maps - Pressure and Fronts Only
Continental Surface Weather Maps - Pressure and Fronts Only
Sea Level Pressure and 1000 to 500 Millibar Thickness Maps
850 Millibar Maps
700 Millibar Maps
500 Millibar Maps
300 Millibar Maps
200 Millibar Maps
National Radar Imagery
Regional Radar Imagery
Local Radar Imagery
Fort Dix Doppler Radar Imagery
Storm Photos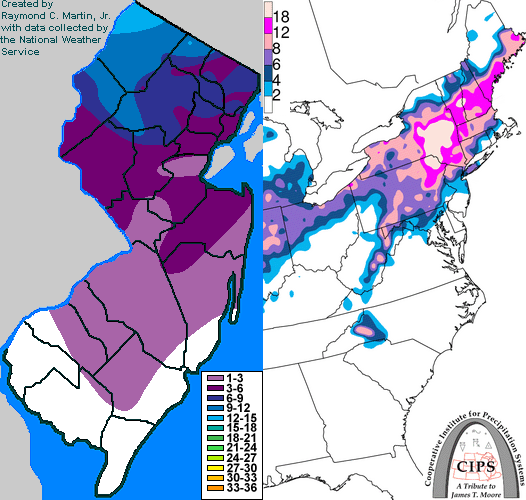 Contoured Snowfall Totals from December 24-26, 2002


STORM DESCRIPTION
The most significant Christmas Day winter storm since 1966 affected much of New Jersey with a wintry mix of snow, sleet, freezing rain and rain, and the coast with minor to moderate coastal flooding and very strong winds. The mix then changed back to snow later on Christmas Day, resulting in up to 1 foot of accumulation across northwestern New Jersey.

Synoptic Discussion
On Tuesday, December 24th, an area of low pressure began to develop over Mississippi. That night, the storm intensified as it moved northeast. The primary low that originally formed over Mississippi moved west of the Appalachians and weakened, but a new low pressure developed near the coast of Virginia around daybreak on December 25th. As the morning progressed, the center of low pressure started to track northeast over the Atlantic along a path that hugged the coast. The storm was just west of Atlantic City during the afternoon of the 25th. It then accelerated northeastwards and was just south of Nova Scotia by the morning of the 26th.

Local Discussion
Precipitation began as light snow towards midnight on Christmas Eve, and some areas in central and southwestern New Jersey recieved a quick inch with this first part of the storm. As the nor'easter moved northeast along the Eastern Seaboard, warmer air from the Atlantic and the south moved in between 3,000 and 8,000 feet above ground level. This caused precipitation to change over to sleet, freezing rain, and where surface temperatures were already warm, rain. Then, warmer air moved in near the ground, changing precipitation over to plain rain in areas that had formerly been cold enough for sleet and freezing rain by 9AM EST Christmas Day. The only exception was in Sussex County where most temperatures remained below freezing. Because of this, around two-tenths of an inch of ice accrued on exposed surfaces, along with a minor accumulation of sleet. By this point, the nor'easter was in the process of intensifying rapidly along the Middle Atlantic seaboard and both its precipitation intensity and coverage increased rapidly across the state during the second half of the morning. During this rapid intensification, a thundersleet storm developed over Sussex County between 10AM EST and 11AM EST Christmas Day. Meanwhile, very heavy flooding rains (which completely melted the snow which had fallen overnight) were falling further south over Mercer and Somerset counties, with over 1.5 inches reported at Princeton. As precipitation intensity continued to increase and winds started to shift from the northeast to the north, precipitation began to change back to all snow late Christmas morning and early Christmas afternoon. This began in Sussex County between 11AM EST and Noon EST and moved southeast during the early afternoon. Rain changed back to snow between Noon and 2PM EST in Mercer, Somerset, Morris, Passaic, and Bergen counties, between 1PM and 3PM EST in Gloucester, Camden, Burlington, Middlesex, Union, Essex, and Hudson counties, and between 3PM and 5PM EST in Monmouth and Ocean counties. Areas further south had trouble changing to all snow and often saw a mix of snow and rain at times during the afternoon of the 25th, depending mainly on precipitation intensity. Heavier bands would fall as snow, but as precipitation lightened it would mix with or change back to rain. The heaviest snow fell during the afternoon, and there was even a thundersnow storm in Mercer County around 4PM EST. The snow lessened in intensity during the evening hours. The heaviest snow during the afternoon also coincided with the strongest winds as the nor'easter "bombed" just off the coast, producing wind gusts up to 68 mph in Belmar and well in excess of 50 mph in other sections of eastern New Jersey. These winds also resulted in brief near-blizzard conditions across much of the rest of northern and central New Jersey. The snow ended around Midnight EST Christmas night. Snow accumulations ranged from 9 to 14 inches in Sussex County, 6 to 11 inches in Warren, Morris, Passaic and Bergen counties, 4 to 6 inches in Hunterdon, Somerset, Union, Essex, and Hudson counties, 2 to 4 inches in Mercer, Middlesex, and Monmouth counties, and 1 to 3 inches in Salem, Gloucester, Camden, Burlington and Ocean counties. Less than an inch accumulated across Cumberland, Atlantic and Cape May counties. The strong onshore flow preceding the storm also produced minor tidal flooding across southern New Jersey and moderate coastal flooding in Middlesex, Monmouth and parts of Ocean counties at the time of high tide around Noon EST on Christmas Day. Heavy rain fell at the time of high tide and exacerbated the flooding as did flow from inland lakes and rivers. Monmouth County bore the brunt of the tidal flooding, with moderate flooding reported in Neptune, Sea Bright, Brielle, Long Branch, Manasquan and Middletown. Low lying areas along the Raritan Bay also flooded in Middlesex County. In Ocean County, moderate flooding was reported in Point Pleasant Beach. Highest tides included 8.73 feet above mean lower low water at South Amboy, 8.52 feet above mean lower low water at Keansburg, 7.47 feet above mean lower low water at North Wildwood, and 7.29 feet above mean lower low water at Atlantic City.




New Jersey Snowfall Totals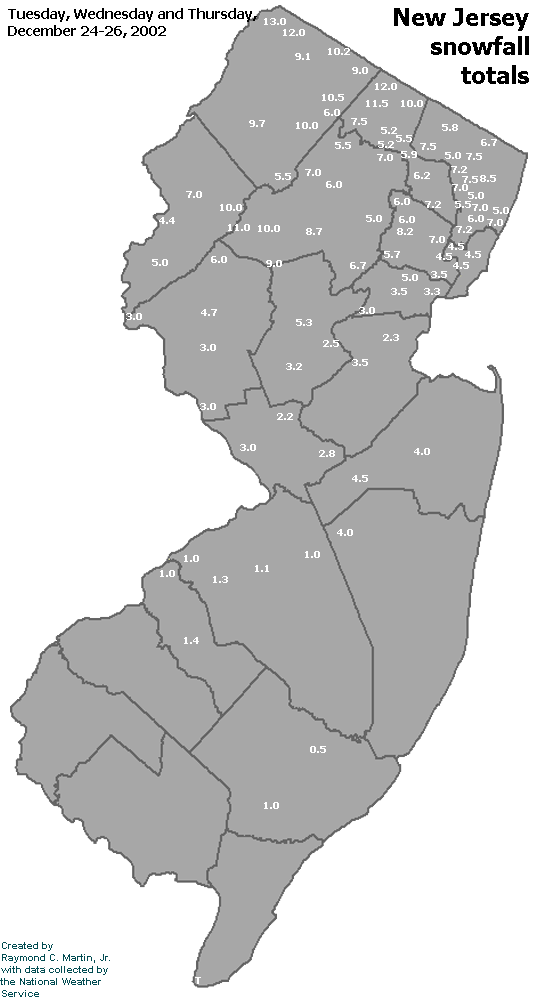 Individual Snowfall Totals from December 24-26, 2002


Regional Snowfall Totals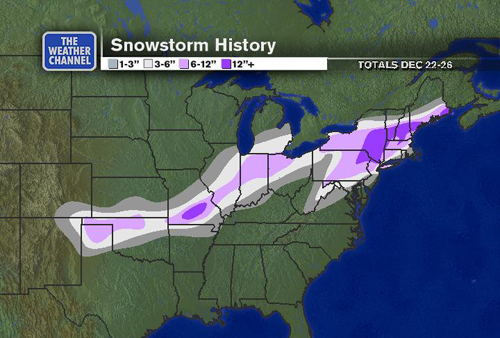 Snowfall Totals from 1700Z 27 December 2002 (12PM EST 27 December 2002)




Table of Contents

Storm Summary

Regional Surface Observations
National Weather Service Forecasts
Surface Maps
Satellite Imagery
National Surface Weather Maps - Pressure and Fronts Only
Continental Surface Weather Maps - Pressure and Fronts Only
Sea Level Pressure and 1000 to 500 Millibar Thickness Maps
850 Millibar Maps
700 Millibar Maps
500 Millibar Maps
300 Millibar Maps
200 Millibar Maps
National Radar Imagery
Regional Radar Imagery
Local Radar Imagery
Fort Dix Doppler Radar Imagery
Storm Photos
Snow storm, December 5, 2002
Snow and ice storm, December 24-26, 2002
Snow storm, January 5, 2003
Snow storm, January 16-17, 2003
Snow storm, January 29, 2003
Snow storm, February 6-7, 2003
Snow storm, February 16-17, 2003
Snow storm, February 27-28, 2003
Snow and ice storm, March 6, 2003
Snow and ice storm, April 7, 2003
Back to Ray's Winter Storm Archive
Copyright © 2012 by
Raymond C Martin Jr
. All rights reserved